St. Xavier's Pre-University College
St. Xavier's Pre-University College was established under the management of St. Xavier's Educational Trust, during the year 2006-07 with the following major objectives:
To provide value based education to for the youths of the society irrespective of caste, creed, gender and religion.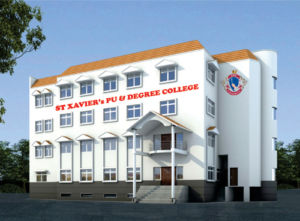 To create "right to education for all" admission are given even to the just passed students by giving a fair chance by recognizing their potential and nurture them to lead a better standard of life in future.

To provide financial assistance to the poor and deserving students by getting them scholarships sponsored from various sources.

To make learning loving and exciting to create a beautiful combination of the inner and outer self.

To create a personal bond between the Student -Teacher- Parent relationship to express the importance of education.

To have qualified, co-operative and friendly staff to understand and address the queries of all the students.

To provide technical knowledge, use of presentation tool and media (like digital projector and slide projector) to make student better understand and feel this is a better learning place.

To teach moral instructions for character building.
St. Xavier's Degree Evening College
Established during the year 2015-16 with a vision to help the working class students since the Life is unpredictable, sometimes students starts to go to college but were unable to finish for whatever reasons, evening college classes gives them an opportunity to meet graduation requirements and obtain their college degree.
Evening classes allow students to work during the day and to take care of needy family.

Evening college students are held to the same standards as their daytime students when it comes to completing coursework and earning grades.
St. Xavier's Degree College
Established during the year 2017-18 to achieve excellence in education towards undergraduate courses, which is a major contributor to the development of self and society. We always desire our students to be reason for change, who work towards a secular works of fraternity, equality and justice.
Enlightened Over
1000+ Students
@ St. Xavier's College
Become a Part of St. Xavier's College to Further Excel Your Career.